Online Citizen Support Portal goes live
Source: GIS | Posted: 2 May, 2017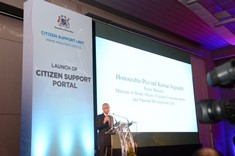 The Citizen Support Portal (CSP), a modern and practical online platform, has been set up at the Prime Minister's Office, with a view to providing a better service to address complaints and queries of citizens.
The Prime Minister, Minister of Home Affairs, External Communications and National Development Unit and Minister of Finance and Economic Development, Mr Pravind Kumar Jugnauth, launched the CSP on 28 April 2017 at the Cyber Tower 1, Ebène Cybercity.
In his address, the Prime Minister underscored the role of the CSU which is called upon to become a one-stop department in citizen support, covering assistance in handling complaints, queries and guidance to the citizens. He recalled that the Citizen Support Portal is one of the measures initiated for the setting up of a harmonised and transparent complaints management system.
According to Mr Jugnauth, the user-friendly online portal, which has been developed by Mauritius Telecom under its Corporate Social Responsibility programme and accessible from various electronic devices with an internet connection, is a big step for the modernisation of Mauritius. The setting up of CSU was announced on 16 February 2017 at a workshop on the revamping of the Citizen's Advice Bureau (CAB) organised by the National Development Unit.
The Prime Minister invited each and every citizen to make use of this online platform, which is in line with the philosophy of the Government to move towards a digital society.


The Citizen Support Portal
Through the CSP, a citizen can register his complaint on a database managed by the CSU. Those who do not have access to internet will have the possibility to go and register their complaints at the CAB nearest to their residence. Consequently, CAB organisers will refer the complaint to desk officers at the level of different Ministries, Local authorities and Parastatal bodies.
An automated response will then be generated to acknowledge receipt of the complaint, following which the citizen will be able to transmit, monitor and track his complaint on the portal through a unique reference number at any time. In parallel, a filtering of complaints will be done on the portal to ensure that simple complaints are handled and resolved within the minimum delay by the 35 CABs across the country and other stakeholders.
The objectives of this new complaints procedure are to:
• promote transparency and confidence for a citizen to track the status of his complaint at any point in time;
• render Ministries and other stakeholders more responsive and accountable;
• harmonise and streamline procedures implemented;
• empower citizens through a paperless and time-saving method to register complaints on a 24/7 basis using internet and;
• enable Government to take or review policy decisions based on analysis of the complaints where no solutions are found.